Interim Patient Care Assessment Process (PCAP)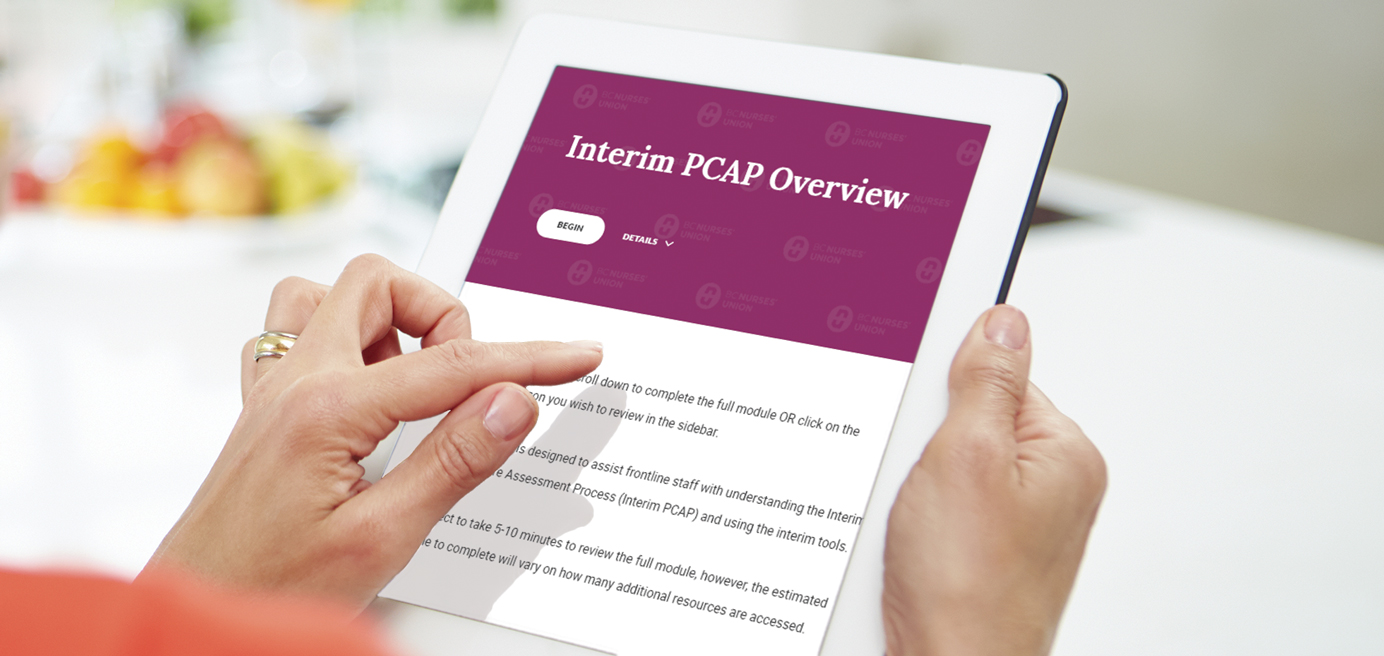 An interim Patient Care Assessment Process (Interim PCAP) tool has been developed and implemented under the guidance of the panel convened to assist the Health Employers Association of BC (HEABC) and the Nurses' Bargaining Association (NBA) in the process. This interim process is in place while development continues on a final PCAP tool.
Article 60 of the NBA Collective Agreement provides for a collaborative direct patient care assessment process at the health authorities and Providence Health Care to support the determination of immediate (short-term) direct patient care staffing requirements.
The Interim PCAP will be implemented as outlined in the Interim PCAP Process and Guide and based on the Interim PCAP Form and the End-of-Shift Question forms. 
Interim PCAP Resources
Interim PCAP Education Module
Access the new PCAP education module for an overview of the interim process.
Frequently Asked Questions
Review the frequently asked questions page about the new Interim PCAP. 
Interim PCAP Form
This form is to be used by the in-charge nurse and manager/designate to document the assessment of nurse staffing needs on a shift-by-shift basis.
In most areas, this form will be completed online by the in-charge nurse and manager/designate. 
End-of-Shift Question Form
The End-of-Shift Question Form is to be completed by each point-of-care nurse on the unit. It is considered part of the assessment tool. This information is intended to assist the manager/designate and the in-charge nurse in determining whether patient/resident/client care needs can be met with the current staffing complement.

The End-of-Shift Question Form is not determinative of whether the Working Short Premium is applicable for the shift. 
Point-of-care nurses are to continue to follow established processes to raise concerns regarding nurse staffing levels and/or patient care needs with the in-charge nurse or manager/designate throughout their shift.