Musculoskeletal Injuries (MSI)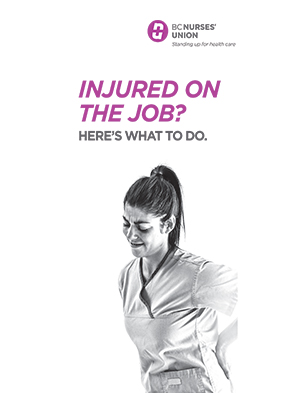 Injured on the Job? 
Working with a Repetitive Strain Injury (RSI)?
HERE'S WHAT TO DO

WorkSafeBC defines a musculoskeletal injury (MSI) as an injury or disorder of the muscles, tendons, ligaments, joints, nerves, blood vessels or related soft tissue including a sprain, strain and inflammation, that may be caused or aggravated by work. These injuries are also known as repetitive motion or repetitive strain injuries (RSIs).

Prevention Programs are Key
MSIs are the leading cause of injury among BC health care workers. Almost half of WorkSafeBC claims in health care are caused by overexertion. Improper patient handling is the leading cause of MSIs for caregivers. MSIs can impact members' quality of life, forever. That's why prevention programs must be established in all worksites where workers may be at risk.

A proper prevention program includes tools and direction for recognizing early signs and symptoms, outlines reporting procedures, and establishes processes to implement and evaluate control measures.  Early MSI signs and symptoms should be reported promptly to ensure the necessary changes are made.
 
Resources
For further information about musculoskeletal injuries such as strains, sprains, patient handling, equipment, education and training, please contact healthandsafety@bcnu.org.