New Members
As a new member of BCNU there's plenty to learn about your union, our role in nursing and ways you can get involved. The place to start is your Member Care Plan, designed to give you a comprehensive overview of the various services available to you, as a member. 
If you're thinking of moving to BC to continue your nursing career from another country, or if you've graduated from a nursing program overseas and want to practice in BC, visit our Internationally Educated Nurses page, and find out what kinds of supports are available to help you along.
UPDATED: November 24, 2022
Online Learning Module: Who is BCNU
This interactive learning module provides an overview of the Union, introduces the services and supports available to members and provides an understanding of the resources every member has access to.
Constitution & Bylaws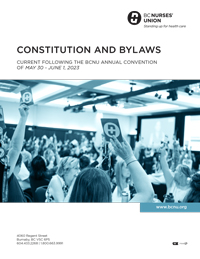 Annual Report