Campaigns and Initiatives
BCNU campaigns have succeeded in winning more staffing, preserving services and convincing managers to listen and value nurses' solutions. From the province-wide violence campaign to past campaigns such as Speak Up and Speak Out, we tackle issues that impact our members, the patients they care for, and the communities they live in. BCNU also works with community groups to alleviate poverty and improve public health care, workplace equity and the environment.
Featured Campaign
National Nursing Week 2023

This year's theme, Our Nurses. Our Future, recognizes the unwavering dedication of our members who provide safe patient care through challenging times and the critical role they play in our health-care system. LEARN MORE.
Constitution & Bylaws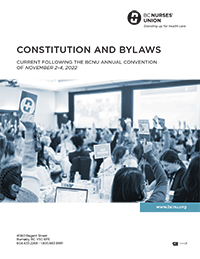 Annual Report