Bargaining
The Nurses' Bargaining Association (NBA) provincial collective agreement expired on March 31, 2022.
In preparation for bargaining the next collective agreement members are being asked to identify their bargaining priorities through a variety of methods. This includes the bargaining survey, which was completed in June 2021, regional bargaining conferences and the provincial bargaining conference.
Delegates attending the provincial bargaining conference will elect the bargaining committee that will represent nurses in negotiations for a new NBA provincial collective agreement. Also elected will be the member representatives for the provincial job action committee. Please note that the delegates and alternates to the provincial bargaining conference are selected at the regional bargaining conferences. Check the BCNU Events Calendar for the schedule.
Your NBA Provincial Bargaining Committee 
The seven members elected to this committee will represent acute care (four positions), community (two positions) and long-term care (one position).
These members will join the interim chief executive officer as lead negotiator and the president at the bargaining table in meetings with health employers and the provincial government.
Long Term Care:  

Rise Ford

Community Care:  

Jereme Bennet
Gerri Miller

Acute Care – Large:    

Roy Hansen
Kath-Ann Terrett

Acute Care – Medium:     

Annelise Henderson

Acute Care – Small:    

Candi DeSousa
In addition to the BCNU representatives listed above, the NBA Bargaining Committee will consist of Health Sciences Association members Nicole McIntosh and Alyson Warner who also represent nurses in the NBA.
Committee members are expected to carry out a number of duties, such as (but not limited to):
collecting and prioritizing bargaining proposals

determining which employers' proposals should accepted or rejected, and which counter-proposals to submit

signing the ratified collective agreement
Find out more information about the bargaining committee, including the committee election process, what it takes to be a committee member, and review the full list of their responsibilities.
Your Provincial Job Action Committee (PJAC)
Provincial bargaining conference delegates will also elect five member representatives to the provincial job action committee (PJAC). Three of the elected positions will represent acute care, community and long-term care while the other two are members-at-large.
These members will join the treasurer and two executive councillors to develop, implement and coordinate a provincial job action strategy.
Long Term Care:

Linda Mitton

Community Care:

Margo Wilton

Acute Care:

Jassi Chahal

Members at Large:     

Shawntel Hildebrandt
Lindsay Manning
This group is responsible for developing, implementing and coordinating local and province-wide job action strategies that will support negotiations and help achieve the union's bargaining goals, provides up-to-date job action information to the regional job action committees, and helps manage problems when they arise from job action.
Find out more information about the PJAC committee, including the committee election process, what they do in the event of job action, how they support the bargaining process.
Current Issue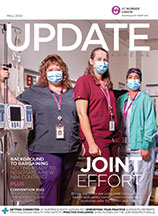 Read our Fall 2022 issue now!
 
Constitution & Bylaws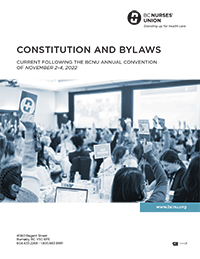 Annual Report