History, Mission and Vision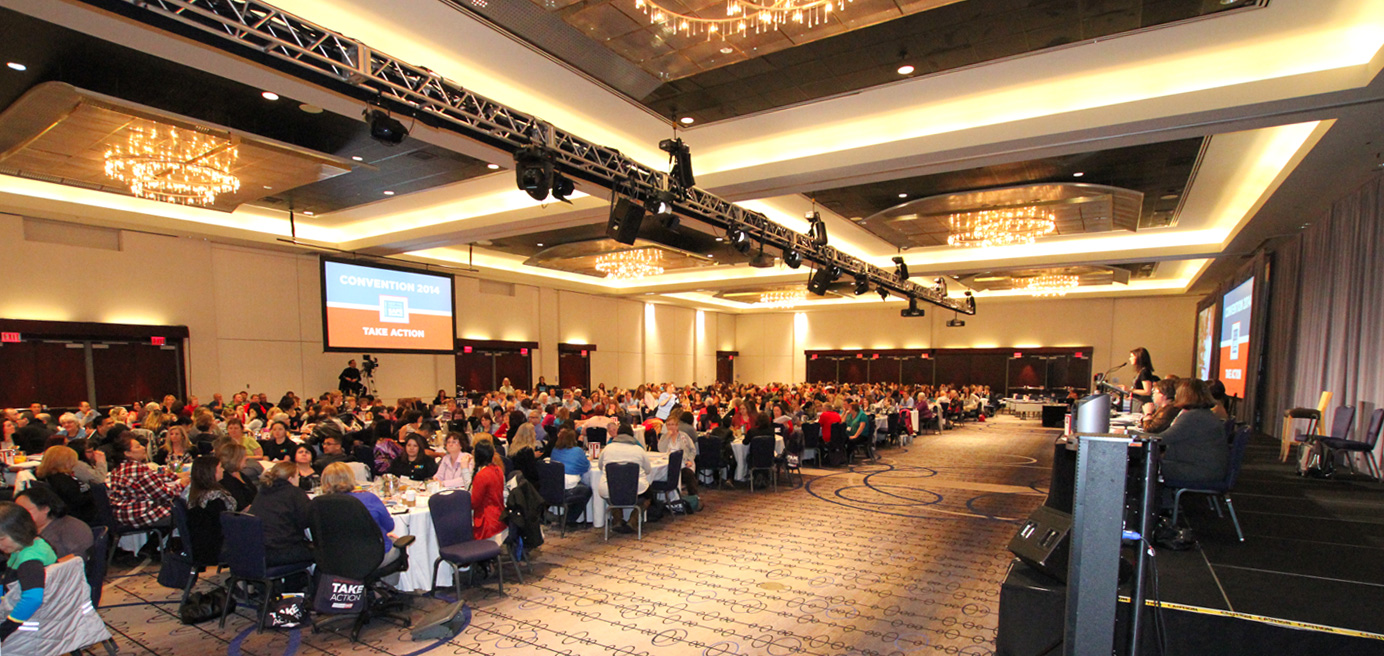 We are the largest nursing union in BC, and the only union to offer services to nurses related to all four domains of nursing: research, clinical practice, leadership, and education. We are committed to defending nurses' individual rights as well as the nursing profession, and are the only health care union that has a long and successful track record of gains in wages and working conditions.
Our Mission Statement, Vision and Values
What is BCNU's mission statement?
The BC Nurses' Union protects and advances the health, safety, social and economic well-being of our members, our profession and our communities.
What is BCNU's vision statement?
The BC Nurses' Union will be the champion for our members, the professional voice of nursing and the leading advocate for publicly funded health care.
What are BCNU's values?
The seven core values listed below support the vision and mission of the BCNU as a member-driven organization, and reflect key behaviors that guide our daily actions.
Our Mandate and Our Future​​
BCNU's vision is outlined in our ​​Strategic Directions 2023​ document. The 2023 organizational priority is to bargain clear and enforceable collective agreements that serve to strengthen and unite our membership so that we can achieve improved working conditions and safe patient care.
Our History
Key Dates and Milestones
BCNU formed in February 1981, after the labour relations division of the Registered Nurses Association of BC (RNABC) broke away and formed a separate, independent union. Two hundred nurses gathered at Victoria's Empress Hotel to attend BCNU's founding convention on June 11, 1981.
1981:  BCNU formed
1980s:  BCNU organized campaigns to bring long term care nurses into the union with improved wages and conditions
1988: the Legal Expense Assistance Plan (now known as Licensing, Education, Advocacy, and Practice (LEAP)) was established to assist members charged in relation to professional practice incidents
1992:  BCNU launched its first anti-violence campaign in support of nurses injured on the job as a result of violence
1993: Employment Security Agreement was reached
1994: BCNU joins the National Federation of Nurses Unions (now known as CFNU)
2001: 25% wage increase over 3 years
2006: The Retiree Benefit Program was negotiated, which provides funding for inflation protection and benefits for BCNU retirees
2008: Funding for the inaugural 3 Year Nursing Co-op program at BCIT, aided by $1M negotiated by BCNU
2011: BCNU removed itself from CFNU temporarily, but has since maintained a friendly relationship with other nursing unions and CFNU
2012: The Nurses' Bargaining Association (NBA), led by BCNU, negotiates a landmark collective agreement that gives nurses the tools to reduce heavy workload, improve patient care and adds more RN/RPN positions; more than 7,200 LPNs vote to change unions and join BCNU, bringing our total membership numbers to more than 40,000
2013:  Bill 18 was signed into law, expanding the definition of 'nurse' to include LPNs, allowing them to negotiate alongside fellow nurses in the NBA. Prior to this, while they had joined BCNU the year before, LPNs were represented by the Facilities Bargaining Association
2013:  BCNU breaks ground on new expansion of provincial offices
2014:  UPN merger
2015:  BCNU's Education Centre opens 
2016:  Members vote 85% in favour to ratify the terms of the 2014-2019 NBA provincial collective agreement
2017: BCNU launches major violence-prevention campaign calling for trained worksite safety officers
2019: BCNU celebrates mental health injury legislation that makes it easier for nurses to access workers' compensation
2020: Nurses celebrate BC Supreme Court decision upholding important public health-care laws that protects patients from out-of-pocket medical expenses.
Today, BCNU represents more than 48,000 members, most of whom are covered by a single provincial contract. This contract is used as a standard for BCNU members working in private for-profit facilities.
Read more about BCNU's first 40 years.
Constitution & Bylaws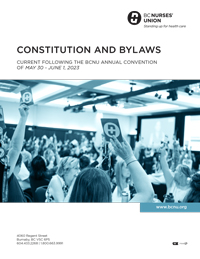 Annual Report