BCNU Learning Centre
The BCNU Learning Centre is a new, online space for member education. This virtual learning space is a learning management system (LMS) that provides members with 24/7 access to course content, videos, quizzes, assignments, and other resources. Members learn at their own pace, on their own schedule, and from anywhere with an internet connection. This flexibility is beneficial for members juggling work, family, and other responsibilities, as well as those who prefer a self-paced learning experience.
Accessing Learning Centre Courses
Visit the BCNU Learning Centre Catalogue to create a new learner account and apply for courses. Once an account is created, members can log in to access their courses and track their own learning progress. 
"I enjoyed the blend of in-person and self-scheduled online learning. I also like that the modules and topics were broken up into manageable time chunks and it didn't feel too long."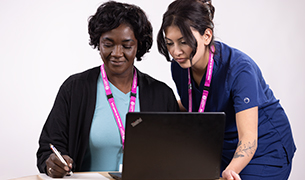 Other Member Education Opportunities
Visit the BCNU Events Calendar for additional member and steward education opportunities. 
Need help? If you're experiencing difficulties with the BCNU Learning Centre, please contact the Education team for support.