Our Provincial Leadership
BCNU is a proven leader in the nursing profession and works daily to be a trustworthy and professional representative of nurses in BC, and defenders of public health care.  
The leadership team is elected once every three years, in province-wide secret ballot votes. It includes the provincial executive committee, along with all of the regional council members elected from the 16 BCNU regions in the province.
Together, they form the BCNU Council, BCNU's top governing body. They meet eight times a year to strategize, set policy, develop the budget and report to the annual Convention.
In this section, you can read more about your provincial executive committee which includes the president, vice president, treasurer, and two executive councillors. We have published brief biographies and photos to help you get to know them as they go about representing you.
Interested in attending a Council meeting?
Constitution & Bylaws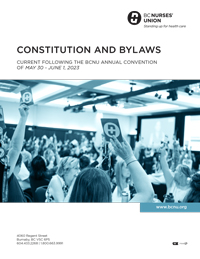 Annual Report