President's Message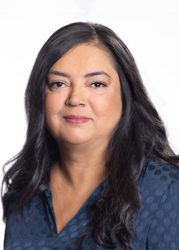 A DEAL TO BE PROUD OF 
On behalf of BCNU's bargaining committee, I am very pleased that members have voted in favour of a new three-year agreement reached between the Nurses' Bargaining Association (NBA) and BC's health employers, effective April 1, 2022 to March 31, 2025. In addition to the terms of the contract,  nurses and patients will benefit from hundreds of millions of dollars in funding agreements reached between the NBA and the provincial government.
A record-breaking 40,526 members exercised their right to vote this round and I'm proud to say this contract gives nurses much more of the respect they deserve.
In addition to providing record-setting overall compensation, the collective agreement includes significant improvements on job flexibility and leaves, workplace health and safety, and demonstrates a genuine commitment to the Truth and Reconciliation work required to improve our health-care system. This contract also champions inclusivity and equity and strengthens awareness of the diversity of our membership.
This agreement was the result of months of intense discussions by your bargaining committee, and it delivers on the key priorities identified by the thousands of members who responded to our bargaining survey and participated in numerous regional and provincial bargaining events.
There is no question that the state of our health-care system has left many of you feeling exhausted, burnt out and morally distressed. Let me be clear: your bargaining committee heard you.
I and the rest of the committee, led by NBA Chief Negotiator and BCNU Interim CEO Jim Gould, brought your stories of sacrifice to the table. We made the employer's negotiators aware that a lack of work-life balance and impossible working conditions have many of you considering leaving the profession. And we told them that nurses in all sectors and across designations have reached the breaking point as they try to hold up a health-care system in crisis.
I strongly believe this agreement is a signal that the provincial government is listening.
I want to acknowledge your efforts. Throughout negotiations, I knew our members had our backs. While we were inside at the bargaining table, nurses were outside at rallies in communities across the province, raising their voices louder than ever as they stood up for their patients, their colleagues and themselves to demand that the government make health care better.
This is a collective agreement you can be proud of. It recognizes your dedication and sacrifice and opens the door to the renewed investment in nurses and nursing that we have been calling for.
Over 80 percent of members polled said nurse-patient ratios were a top bargaining priority. I am proud to report that our NBA negotiators also reached a groundbreaking commitment from the provincial government to support mandatory minimum nurse-patient ratios, a staffing model BCNU has advocated for more than 25 years.
This agreement will make BC the first province in Canada to implement ratios.
This is the beginning of a new chapter, and I'm excited to help lay the groundwork that will retain the nurses we have in the system today and recruit the nurses we will need in the future.
The ratification of the collective agreement secures historic funding agreements between the NBA and provincial government including $750-million dollars over the next three years to implement the nurse-patient ratio model with more money ongoing.
This is a contract that respects nurses and I encourage you to review the terms of settlement, wage comparison chart and more by visiting bcnu.org or logging onto the Member Portal.
We look forward to rolling up our sleeves and continuing to work hard for you.


Aman Grewal
President, BC Nurses' Union
Constitution & Bylaws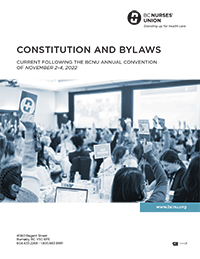 Annual Report