President's Message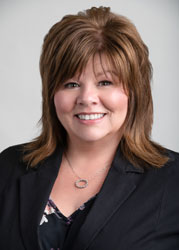 NURSES ARE READY TO MAKE A DIFFERENCE
Our members have been working tirelessly throughout the summer under conditions that are more challenging than almost any they have faced before.
In many areas of the province, nurses and other health-care workers have been confronted with the devastating impacts of global warming as BC experiences its most destructive wildfire season in history. I want to acknowledge our members directly affected by the wildfires for the invaluable work you are doing to help keep your communities safe. And I thank those nurses who have added their name to the province's Emergency Health Provider Registry. Your willingness to be deployed in emergency events is a testament to our profession.
I know that nurses are experiencing burnout as they strive to provide safe patient care despite a critical nursing shortage and unsafe working conditions. Through it all, BCNU stewards have been hard at work supporting members at their worksites and we are so appreciative of their leadership and service.
As your newly elected president, I am ready to begin the important work of advocating for all our members' needs. It's vital that politicians and decision makers hear our collective voice and act on the issues we raise. I look forward to holding the government accountable and ensuring minimum nurse-patient ratios is a reality at all worksites. Throughout the fall, BCNU will also be engaging in provincial and federal lobbying efforts as a member organization of the Canadian Federation of Nurses Unions.
I look forward to working closely with both new and re-elected members of the provincial executive committee in the months and years ahead, and extend a warm welcome to Vice President Tristan Newby, Provincial Treasurer Anita Dickson, and our Executive Councillors Aida Herrera and Michelle Sordal.
I would like to acknowledge past president Aman Grewal for her work over the past two years. Aman stepped into the role in September 2021 while the province was in the throes of the COVID-19 pandemic. I would like to thank Aman for her dedication to our union and wish her well in her future endeavours.
Thank you to outgoing Provincial Treasurer Sharon Sponton and Regional Council Members Kath-Ann Terrett, Walter Lumamba, Hardev Bhullar, Kelly Zander and Carly Koeppen for their leadership and advocacy. Best wishes for your future endeavors.
Our work to implement the terms of the NBA contract is a top priority. Our new collective agreement includes general wage increases and improved shift premiums amounting to the largest pay increases in over a decade. Unfortunately, too many members continue to experience employer delays in processing the negotiated retroactive pay increases. This has caused tremendous frustration and hampers the mutual respect necessary to build trust in the workplace. I'm committed to pressuring the Health Employers Association of BC and health authority employers to ensure this issue is resolved as soon as possible.
Member engagement and education remains a priority for the union. Starting this month, BCNU will be facilitating full-day, in-person NBA contract information sessions with members across our 16 regions. Members are encouraged to attend to learn more about the new collective agreement and ask questions. Be sure to check the BCNU events calendar to learn more and register to attend the session in your region. In addition, the union will be hosting two conferences in Vancouver this November – the Professional Practice Conference takes place Nov. 1 and the Human Rights and Equity Conference on Nov. 30. I look forward to meeting and engaging with members at these upcoming events.
Summer is a time to visit family and friends and take a much-needed break from the challenges of working life. Unfortunately, too many nurses find themselves working long hours and short-staffed as they do their best to provide care with limited resources. I sincerely hope you were able to take some time off this summer. I for one am committed to making a difference for all nurses in the province, and I am excited and honoured to continue leading our union's advocacy today and through my term in office.
In solidarity,

Adriane Gear
President, BC Nurses' Union
UPDATED: September 01, 2023
Constitution & Bylaws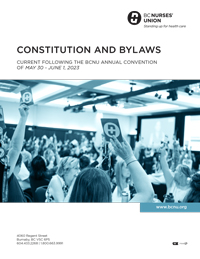 Annual Report