Terese Mailhot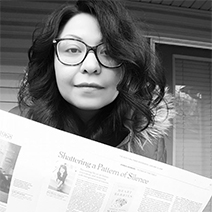 Session Title
Mental Health From an Indigenous Perspective: Cultivating My Own Path

Session Description
I come from a collective Indigenous culture, where health is more than just the self. I was able to heal when I considered how intergenerational trauma impacted my daily life and identity. Being able to examine how my history lives inside of me and future generations made healing more important and vital. My healing wasn't simply for the self, but for the sake of my sons' future families, and I consider my healing journey the best way to honor my mother and her mother. My memoir discusses these issues, and while some passages were hard to write, giving that book life has impacted the people I care about in positive ways. 
Biography
Terese Marie Mailhot is from Seabird Island Band. She graduated with an MFA from the Institute of American Indian Arts. She served as Saturday Editor at The Rumpus and was a columnist at Indian Country Today. Her writing appears in West Branch, Guernica, Pacific Standard, Elle, and elsewhere. She is the author of the New York Times bestselling Heart Berries: A Memoir. She serves as faculty at the Institute of American Indian Arts and she's a Tecumseh Postdoctoral Fellow at Purdue University.
UPDATED: October 20, 2022