Violence at Forensics: Nurses Have the Solutions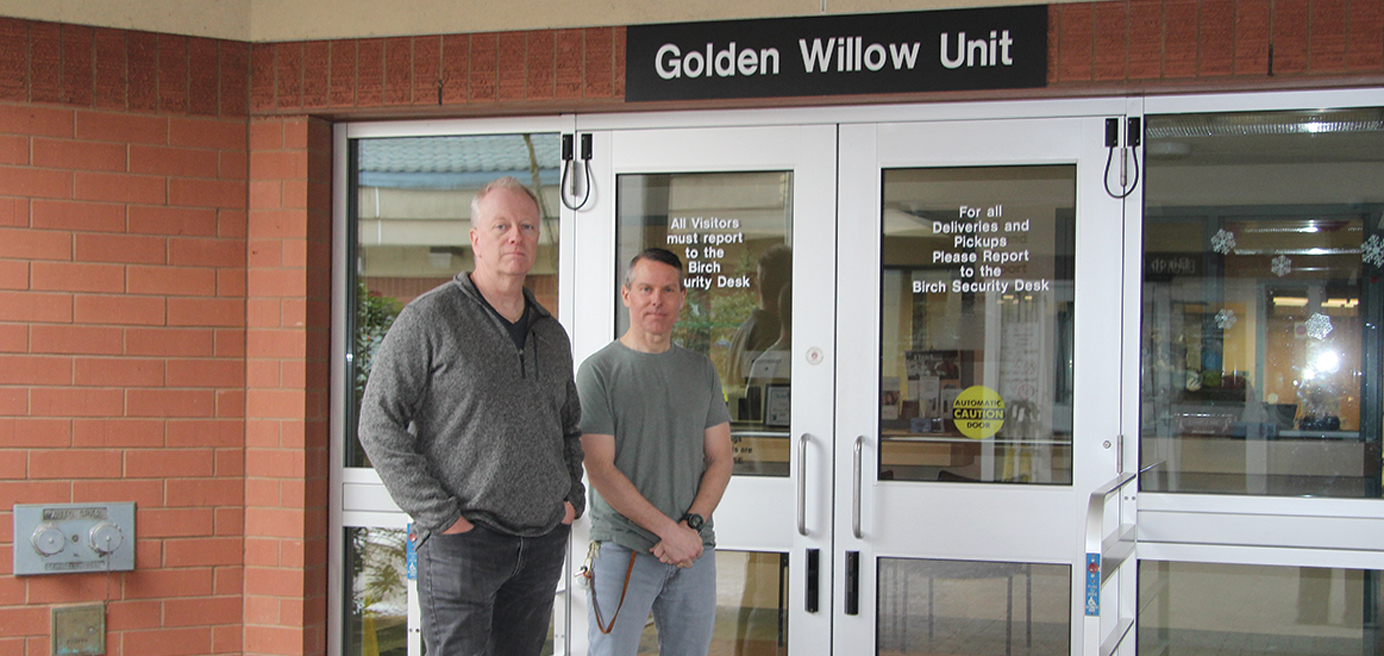 PREVENTING WORKPLACE VIOLENCE BCNU full-time steward Ron Morley and patient care coordinator Gord Wilson are two of the some 200 BCNU members who work at Coquitlam's Forensic Psychiatric Hospital. Both have worked to address systemic problems at the facility.
Hospital hit with largest WorkSafeBC fine in province's history
Headlines were made across the country when WorkSafeBC (WSBC) fined the Forensic Psychiatric Hospital (Forensics) $646,304 for failing to control violence risks at the Coquitlam facility. The January penalty is the largest in the province's history.
BCNU represents more than 200 nurses who work with the clinically challenging patient population at this secure 190-bed hospital. The staff treat patients who are unfit to stand trial, and if mental illness has made them not criminally responsible they are treated until they can be safely released into the community.
The massive fine comes as no surprise to those familiar with the facility. The worksite made headlines last summer after a spate of serious patient assaults on staff. Workers at the hospital were physically harmed and many are still struggling with the psychological impacts of those incidents.
The attacks prompted the Provincial Health Services Authority (PHSA), which operates the facility, to announce in September that it would be increasing staffing levels and expanding security and training. The announcement came after BCNU representatives met with health authority leaders to develop a plan that would mitigate the ongoing danger to nurses' health and safety.
"The meeting was just the latest of many," reports BCNU President Christine Sorensen. "For years we have repeatedly told Forensics leadership that nurses have solutions to improve safety and they must be meaningfully engaged if violence is to be reduced."
WSBC's latest penalty covers two incidents that occurred last spring, before the other assaults that occurred in the summer.
The first incident happened on March 20, when a patient in a seclusion room became agitated and lunged at a doctor. During efforts to restrain him two nurses were assaulted and injured. WSBC concluded that safety risks weren't fully assessed prior to entering the seclusion room.
The second incident happened on May 22. A patient undergoing a court-ordered assessment was transferred to the medium-security Dogwood Unit to treat his acute medical needs.
But management transferred the patient prior to completing the mandatory risk assessment, which violated PHSA policies. The patient assaulted and injured a health-care worker who is still physically and mentally traumatized by the attack.
Forensics has the highest number of violent incidents with time-loss related injuries in the PHSA. And there are long-standing problems in getting management to improve practices to reduce workplace violence.
In 2016 the hospital received a penalty of $171,000 for failing to train supervisors and workers about their health and safety responsibilities. The fine was later reduced to $15,000 due to changes in the penalty assessment matrix.
This followed a $75,000 WSBC fine that was levied in 2014 for failure to instruct workers exposed to violence, and failure to assess and control the violence risks. The fine was tied to the stabbing of an employee in 2012.  
SYSTEMIC CHANGES ARE NEEDED 
Ron Morley has worked at Forensics for 28 years. The BCNU full-time steward has experienced his share of workplace violence.
"There are systemic changes that need to happen in order to reduce risks that lead to violence," he explains. "Key changes that staff have recommended include moving away from the clinical program model that's currently employed and adopting a case management model of care. We also need to retain experienced forensic security officers."
Morley says the clinical program model aims to group patients with similar psychiatric diagnoses on the same units. But this becomes a problem when patients at a facility are being treated primarily for their psychiatric needs, and where their propensity for violence should be the overriding factor that determines unit placement.
For example, the clinical program model would likely assign patients with a high propensity for violence and high medical needs (e.g., IV therapy) to the medium security Dogwood Unit with other medically frail patients. But the problem with this practice, explains Morley, is that the unit isn't set up to contain violent outbursts, meaning patients with high security needs shouldn't be bundled together on the Dogwood Unit for treatment of their medical conditions.
"Systemic changes need to happen in order to reduce risks that lead to violence."
There's another problem that's been observed with the clinical program model: when a patient moves to a new unit their complete information does not always follow them, resulting in fragmented information across various units.
In a case management model, on the other hand, a patient's information stays with the health-care team responsible for a patient during their entire stay at the facility. Information, such as violence triggers, is consolidated by permanent case management coordinators and can then be shared with staff if a patient moves to a new unit, mitigating the potential for violent outbursts.
"The current clinical program model is more appropriate for acute care environments," says Morley, "and to improve safety, Forensics should move to a case management model."
Morley says there have been several accounts of incidents at the facility that show how the clinical program model contributes to unsafe environments.
In one case, a patient was doing well on a medium-security unit and was being transferred to a minimum-security unit where he could have unsupervised community visits.
As the transfer approached, the patient spent a lot of time meticulously packing his backpack. The staff on his present unit (medium-security) knew this wasn't a good sign and likely meant he would try to "elope" during his next unsupervised community leave.
But staff on the low-security unit (his next unit) assumed his meticulous preparations were a good sign that he was eager to move to a unit with more privileges.
Unfortunately, they made the wrong assumption and during his next community leave he didn't return to the hospital on time. The police found him sleeping on a park bench and he was later returned to Forensics. Fortunately no one was hurt, but that's not always the case.
Morley says situations like these would be less likely using a case management model because the important clue about the meticulous packing of his backpack would have been understood by his care coordinator, who would likely delay his access to unsupervised community leaves.
In another case, a patient on a medium-security unit was decompensating by avoiding eye contact and refusing to take medications. Decompensating usually indicates that a patient's mental state is deteriorating. The unit team knew his behaviour meant he was upset and was losing his ability to know when he might lash out. They recommended the patient be transferred to a higher security unit to protect everyone from violence. But the recommendation was blocked by management and a nurse was later assaulted.
"This story shows that staff are sometimes injured when inappropriate care models fragment patient information," says Morley.
A case management model could have prevented both of the previous incidents, as unit staff could have contacted the patient's care coordinator who would have understood the warning signs and transferred the patient to a higher-security unit before violence occurred.
RETAINING SECURITY OFFICERS WILL HELP SAFETY 
The use of experienced forensic security officers, or FSOs, is another important contributor to staff safety. FSOs know how to de-escalate situations and are important contributors to the therapeutic environment.
Unfortunately, Forensics has difficulty retaining FSOs because they leave for higher-paying positions once they gain experience. Staff estimate that about 10 FSOs have left the hospital in the last 12 months. Moving these workers to a higher pay classification would help retain their skills and experience.
THE WORK CONTINUES 
BCNU supports WSBC's decision to impose a significant penalty. For years the union has pushed PHSA to improve safety. "If nurses don't feel safe from physical attacks they can't effectively focus on their patients' needs," says Sorensen.
The union is reviewing the penalty and is considering options, such as asking WSBC to reinvest the funds into safety and violence prevention solutions at Forensics. Further penalties can be issued if other employees are assaulted.
"BCNU stewards have done their part – now it's time Forensics management did theirs."
- BCNU President Christine Sorensen
Sorensen credits Forensics nurses' ongoing reporting and advocacy as the main reason that working conditions at the hospital aren't worse. She says their diligence resulted in additional safety measures being put in place last year, including dedicated security on high risk units.
"We'll continue to monitor this worksite closely and hold PHSA and the Ministry of Health to the commitments they made on violence prevention prior to the last provincial election and during NBA contract negotiations," she says.
"Every week advances in health care and disease treatment progress at lightning speeds," remarks Sorensen. "We need to see PHSA leaders move at that same speed to keep their employees safe. BCNU stewards have done their part – now it's time Forensics management did theirs," she says.
"We won't stop until violence is no longer part of the job." •
UPDATE (Apr 2019)
UPDATED: February 28, 2023